Post by Supersaurus on Feb 25, 2012 20:11:06 GMT -5
To give you all an idea of what this thread is about, I have included a note from Ian Cresswell, who is the director of this fanfilm entitled 'Jurassic Park: Origins' to describe the project so far.

"Hey all,
I am working on a new fanfilm, tentatively called JP: Origins. Most likely, the film will become a shortfilm prequel to Jurassic Park.
However, for now, I am working on a "trailer" for the short. I say trailer because it will be more like a scene from the shortfilm itself. The purpose of this "trailer" will be to demonstrate cinematic style and quality, and to help build interest in the full short film.
Forum member giu3232, probably most well known for his "3d models" thread, is going to be co-directing this film, since he is doing all of the CGI/fx. For those of you who have seen his amazing JP 3d models, I'm sure this news will get you excited to see what he comes up with. Having seen his work, I know I can't wait to see how things turn out.
I will be shooting this coming Sunday at a local land preserve. Filming will take either 1 or 2 days, depending on how smoothly everything goes. There is going to be a decent amount of CGI in this trailer, so everything has to be shot perfectly. I'm shooting with a Canon 5d mark II DSLR video camera, with a lot of bells and whistles. Hopefully, I can also show a bit of the "behind the scenes" while we're shooting this coming weekend. I may designate a friend to capture BTS and post it to the board.
As to the substance of the trailer itself, I don't want to give too much away, but essentially we will be following a park maintenance/security officer (who will be dressed precisely as the "handlers" in JP1) who is tasked with investigating an equipment malfunction near the Velociraptor paddock.
The intention of this trailer will not be to build a strong storyline. The goal is to show the cinematic possibilities of a fan-made Jurassic Park film. A lot of time and effort will be going into a production that is only a couple of minutes long, to ensure that everything is of the highest quality. It may be a few months or later before the full trailer is released, because the CGI work will take an immense amount of time and effort (HUGE props to giu3232 for taking on the challenge).
I plan to keep revealing more a little bit at a time. One cool thing of note is that we will be filming using the jeep featured in the above test clip.
I've seen it in person and it looks just great. I'm so excited to have it in the film. A big thank you to forum member BossK for lending his Jeep to this project! Check back on Sunday for a picture or two from filming. I will also be releasing little teaser clips and pictures throughout the next few months as post-production rolls along.
We will not be making any money on this trailer at all. I'm putting a good but of $$$ into this project to make sure it's great, but only because I love JP and I hope other JP fans will enjoy what we put together. Giu3232 will also be putting a huge amount of time and effort into this film, I'm sure he is looking forward to sharing his 3d dinosaurs with all the fans of his incredibly talented work! If you all like what you see when the trailer comes out, perhaps you'll consider contributing something towards a longer short. But that's in the distance, for now, I can't wait to share our vision with you. It's going to be a fun ride!
-Ian"
Excited yet? ;D Here's a show reel of Julien's work on this project: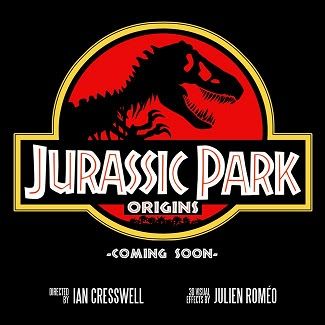 Release date
2012
Genre
Action / Adventure
Description
JP: Origins is a short film set to be shot in the summer of 2012. Funding will be acquired through crowdsourcing, by accepting investments at
www.kickstarter.com
. We are looking for people to sponsor the success of what will be a thrilling short film, and get some great rewards in the process!
Plot outline
JP: Origins is set before the events of the first Jurassic Park film, and tells the backstory of the Park's creation.
Directed by
Ian Cresswell / Julien Romeo (CGI and FX)
Website
www.jporigins.com